Hot N Cold?
Ok i admit i hated 'I kissed a girl' and all the attention that came with it. I really don't follow this girls music career BUT she has grabbed my attention with her style.
I read some people are saying she's desperatly trying to be quirky, but i am actually liking Ms Perrys crazy clothing choices.
My two (she had like 10 or something daft) fave outfits from her presenting the MTV emas....
1) I was absolutly like OMG when i saw this! :)
half tuxedo + half dress = genius
best of both worlds !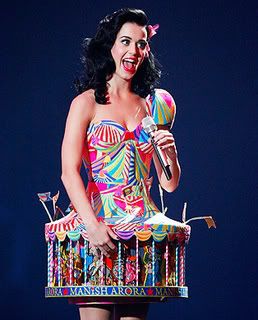 Well i do have a <3 for merry go rounds and Manish Arora so me proably being one of the minority here, who actually really liked this outfit :)
Attention grabbing - practical to wear = genius
Manish Arora is everywhere and this reminds me how much i still need that certain MAC collection! mmmmm
♥♥♥♥♥♥